Have you noticed deep creases across your forehead? Has your skin lost its elasticity as you've aged?
Injectables are a minimally invasive alternative to plastic surgery that can smooth wrinkles, add volume, and reduce signs of aging.
Dr. Christopher R. Hove serves Main Line, PA, from Paoli and can help you choose the correct injectable for a more youthful appearance.
Why Choose Injectables
Over Plastic Surgery?
As we age, our skin loses its elasticity and begins to wrinkle and sag. While
plastic surgery
can create dramatic results, injectables are often effective enough to give patients the aesthetic look they wish to obtain without having to undergo surgery. Injectables offer many benefits, including:
Natural-Looking Results
When performed by a licensed plastic surgeon, injectables restore your youthful appearance in a way that looks natural. You can discreetly achieve your desired look so people may not realize you've had work done.
Quick Procedure
This minimally invasive procedure only takes a few minutes to administer. Your entire injectables appointment, from arrival to departure, will take less than an hour.
Minimal Downtime
Injectables require no incisions or sedation. You can resume your daily activities as soon as you leave our office; however, you may have to avoid strenuous activity for 24-48 hours.
No Scarring
These injections are given through a very thin needle, so unlike many plastic surgeries, you will have no permanent marks or scars following your treatment.
Hear What Dr. Hove Has To Say
ABOUT INJECTABLE TREATMENT
Which Injectable
Is Right for Me?
Our Paoli, PA, office serving Main Line and beyond offers several injectables, each of which has its own unique benefits. Before receiving an injectable treatment, you will have a consultation with Dr. Hove where you will discuss your aesthetic goals. Dr. Hove will then be able to determine which injectable will best suit your needs and decide where the injections will be performed to create your desired results.
Feeling Self-Conscious About Frown Lines or Sagging?
Contact Our Office Serving Main Line, PA, Today
When considering any medical treatment, you should always choose a specialist. Dr. Christopher R. Hove focuses on facial enhancement so he can provide his patients with the best possible results. Our Paoli office is the destination for patients in Main Line, PA, who are seeking facial treatment and plastic surgery. Our office is even recommended by other plastic surgeons for more advanced cases.
If you desire a facial treatment, but don't want to commit to plastic surgery, injectables can alter the appearance of your facial features in a way that looks natural. If you're in Main Line and considering injectable treatments, we invite you to see if you qualify by filling out our contact form or calling our Paoli, PA, office today:
A Healthcare Provider Explains
Why They Choose Us for Plastic Surgery
"I was very pleased with the patient care, bedside manner of Dr. Hove and treatment outcomes of my daughter's surgery. I am a healthcare provider and have experience dealing with many physicians and surgeons and I can honestly say Dr. Hove is an excellent practitioner who is kind and caring with his patients."

Susan Lempert
The Types of Injectables
Our Practice Serving Main Line, PA, Offers
BOTOX Cosmetic and Dysport
BOTOX® Cosmetic and Dysport® are forms of injectable botulinum toxin that work by temporarily relaxing your facial muscles. Dysport and BOTOX can effectively smooth the appearance of fine lines and wrinkles and slow the formation of new wrinkles around the eyes, lips, chin, and anywhere else on the face that needs youthful regeneration. Dysport is typically used for larger areas as it spreads quicker than BOTOX Cosmetic; however, BOTOX Cosmetic is great at targeting smaller areas like crow's feet and lines around the lips.
JUVÉDERM
JUVÉDERM® is a hyaluronic acid-based dermal filler. Hyaluronic acid is a naturally occurring substance within the human body that aids in skin moisture and elasticity. Injecting JUVÉDERM under the skin adds volume to areas of the face that have begun to sag, giving you a more youthful appearance.
RADIESSE
RADIESSE® is the first and only FDA-approved injectable dermal filler that uses calcium hydroxylapatite (CaHA) to provide immediate, natural-looking results that can last for a year or longer. CaHA stimulates the production of your natural collagen and elastin, giving you youthful-looking skin that lasts long after treatment.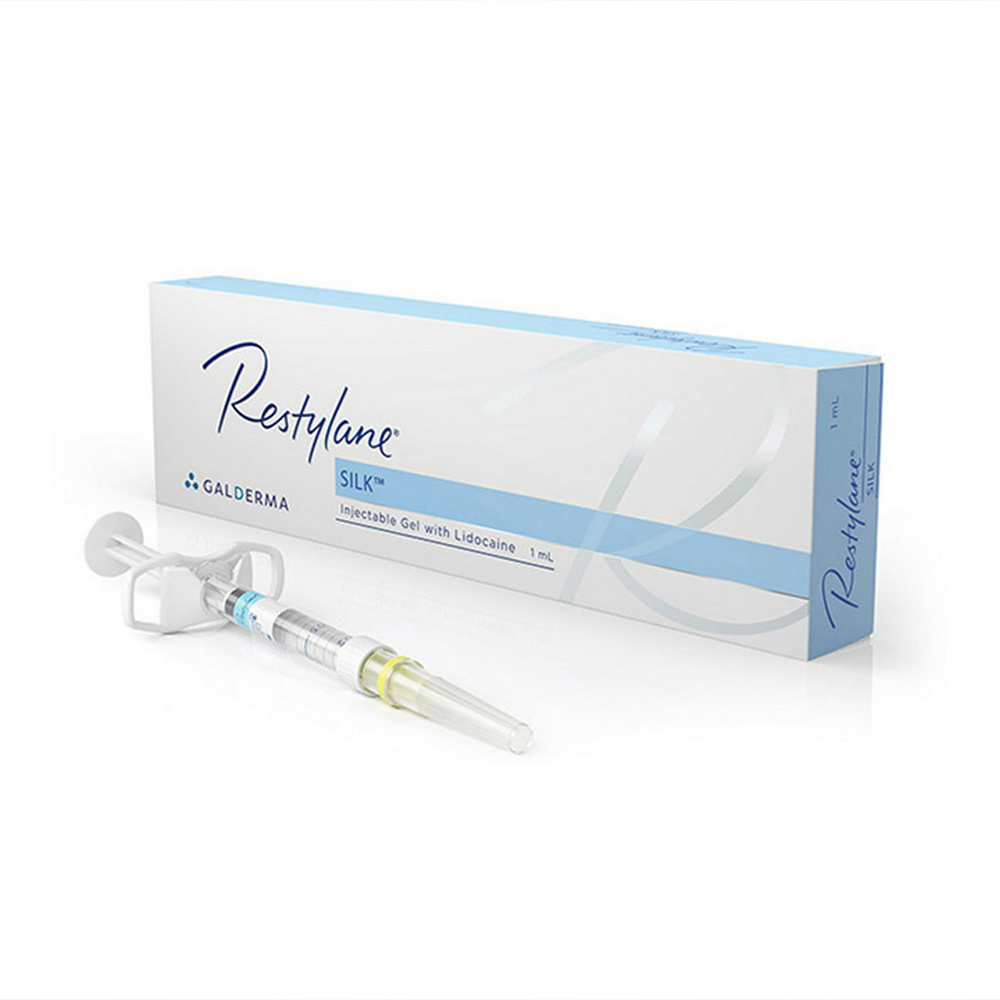 Restylane
Similar to JUVÉDERM, Restylane® is a filler that uses hyaluronic acid to correct moderate to severe wrinkles around the corners of your lips and nose. It can also be used to restore fullness to your lips.
Revanesse
Revanesse® is a cross-linked hyaluronic acid dermal filler that creates natural, long-lasting results. The particles within the Revanesse formula are uniquely spherical to create smooth, natural-looking results. The particles are designed to be accepted by the body, so they are broken down slower than the ingredients in other dermal fillers.
Sculptra
Similar to RADIESSE, Sculptra® stimulates natural collagen production deep within the dermis. This helps restore the underlying structure of your skin, minimizing wrinkles and restoring volume. The effects of Sculptra can last up to two years.
Restylane Kysse
Restylane Kysse™ is a lip filler that adds volume, enhances the color, and smooths the lines of your lips without sacrificing flexibility. The effects of this filler look natural and can last up to a year.
JUVÉDERM VOLBELLA XC
This injectable gel is used to enhance the lips and smooth fine lines around the mouth. The key ingredient in JUVÉDERM VOLBELLA® XC is hyaluronic acid which allows your lips to retain moisture and have a natural, plump feel for up to a year. This dermal filler can also be used to plump undereye hollows.
Get The Process Started
Request a Consultation
Are you curious about injectables but aren't sure which one is right for you? Dr. Hove can help you find the injectable treatment that works for you and meets all of your needs. Our practice is known as the destination to go to for facial treatments, and doctors from surrounding practices regularly refer patients to us. Contact our Main Line area practice to request a consultation with our expert staff:
Our Expert Care Creates 5-Star Results
"My results are beautiful."
"Dr. Hove and his team are great! Dr. Hove has incredible credentials and expertise. My results are beautiful. Dr. Hove closely listened to my goals, and my results are exactly what I wanted... He was there throughout the entire process to address any concerns and to ensure that I was comfortable. His staff is also extremely kind and professional! I highly recommend this practice!"

Hannah G
What to Expect
DURING TREATMENT
The effects of injectables can last for more than a year, but only take a few minutes to administer.
Transformative Results Without Surgery
Injectables Can Turn Back the Clock on Your Appearance
BOTOX patients can expect their results to last for three to six months, while dermal filler patients can see results for a year or longer.
How to Make Your Results Last
Our Tips To Get the Most Out of Your Injectables
You've invested in your fillers and
BOTOX
and want the effects to last as long as possible. Keep your skin looking fresh by maintaining your fillers and BOTOX and following these tips:
Hydration
Keep your skin hydrated from the inside out. Drinking plenty of water can help you retain a glowy, plump complexion long after your injectables.
Sunscreen
The sun can dry your skin and cause wrinkles to appear faster. Stay out of the sun and use sunscreen daily when outside or sitting near a window.
Stop Smoking
Smoking breaks down the collagen in your skin and can make injectables less effective. Stop smoking to help make the effects last.
Skincare Products
Invest in skincare that works for you. Medical-grade anti-aging skincare can help you boost your skin's radiance. Consider starting with a retinol product.
Tone Down Your Expressions
This may be difficult if you're prone to big facial expressions. Still keep your personality, but try to reduce furrowing your brows and scrunching your nose to limit frown lines and other wrinkles.
The cost of your injectables treatment will vary based on where you're getting the treatment, what type of injectable you're receiving, and how much is administered. We offer CareCredit® to help break the cost of treatment into affordable monthly payments.
We've answered the most frequently asked questions so you can feel prepared for your consultation.
Contact our practice
on the Main Line with any additional questions or concerns. Our friendly staff is always happy to help.
What Is the Best Age for Injectables?
Injectables have been FDA-approved for use in patients 18 or older. The best age to start injectable treatment depends on your cosmetic goals. Starting injectables in your mid- to late twenties and thirties can help prevent future wrinkles from forming and promote a more youthful appearance.
Are There Any Risks With Injectables?
As with any cosmetic procedure, there can be risks. Mild side effects could include bruising, swelling, tenderness, and redness. However, when you choose an experienced and licensed cosmetic team, you reduce the chances of these side effects.
How Long Will My Results Last?
How long your results will last depends on the type of injectable you receive. BOTOX patients can expect their results to last for three to six months, while dermal filler patients can see results for a year or longer. Dr. Hove will review your expected timeline during your consultation.
How Much Recovery Time Is Involved After Injectables?
None! Patients can expect to come to our office, receive their injections, and then return to their daily activities immediately following treatment. Depending on the type of injectable you received, strenuous activities may need to be avoided for the first 24 hours. Dr. Hove will review recovery dos and don't's following your procedure.
5-Star Reviews From Main Line Patients
"He is an extremely knowledgeable physician."
"I've been to Dr. Hove several times and am going back in the next few months. I just want to say that he is an extremely knowledgeable physician."

Laura Lerro